I handle the issues in your tissues!
"As a Gainesville resident, I've had 15+ years of therapeutic massage services at a variety of local businesses. Then, recently, a coworker gave me a gift certificate to visit Cody for a therapeutic massage. What a amazing experience I had with Cody! Friendly, upbeat, thorough, and heavy handed, Cody provided a relaxing hour long deep tissue massage that targeted all the key areas we talked about prior to the session. I thought she really took time to listen and understand my needs before she began. In addition, her office is quite, serene and very clean. Plus, as a added bonus, I received an extra 15 minutes to my session for being a first time client. What a deal! If you are looking for a hassle free therapeutic massage experience that's convenient for your schedule and affordable, please take a moment to visit Cody, she is well worth the time and money." - Tom R.
"I have been seeing Cody for a couple of years now and she is amazing! Not only do her massages feel awesome, but as the owner of a moving business, she helps keep my body tuned up. I refer her to all of my friends, and her massages make the perfect gift. She is flexible with her hours, and can even come to you! Highly recommend! " - Wade Swikle, President, 2 College Brothers, Inc
"I came to Cody because I had chronic sports-related pain in my lower-back and neck area. I had previously tried chiropractic care, acupuncture, acupressure and traditional physical therapy with little results. After a single session with Cody, I felt a significant decrease in pain, as well as significantly improved flexibility. After more sessions, I can play golf multiple times a week, as well as baseball and tennis with no pain. With the increased flexibility I have seen a jump in distance off the tee in my golf game, and a little extra speed in my tennis serves. I still suck at baseball, but that's not Cody's fault. It's clear that the additional training she has completed and her professionalism make the difference in her approach to treatment. I'm confident that anyone with chronic pain would benefit from Cody's expertise. Her personality is a joy and the treatment environment relaxing. Do yourself a favor and give her a call"– Michael B.
"I once heard a message as a youth entitled, "What difference does your life make?" The message delves into the importance of using our time here on earth to impact lives in a positive way. It has become extremely clear to me that an individual can make a difference in one's life. Cody Yelton services rendered to me as Massage Therapist has been a tremendous blessing and brought about a soul searching view of the times we are living in now and the shift we must make in keeping this society real as we focus on what's really important. She provides more than just a Massage. She provides a listening environment where one can be heard and not judged while at the same time providing the client one of the most powerful healthful deep tissue massages one can imagine. At her business you get more! Interestingly it happens to you without you actually realizing it. She provides conversations that are engaging about life challenges that just makes sense. I am almost vegan now as a result of just a basic conversation about healthy eating and its benefits to our health. My health is better and my reflections about what's really important that makes a difference have broadened. Thank you Cody for always being frank and honest and making your place of business one in which I always look forward to come for the incredible service you provide making all of us better as a result of your healing work." - Reginald Williams
My mission is to be your favorite massage therapist in Gainesville Fl.  I believe in life-long learning and in asking questions to get to the root issues.
Are you retired?  Maybe sit at a desk for hours at a time for work?  Are you willing to be slightly active throughout a massage therapy session?  I want to help figure out what might be going on with your body, so that you can get back to feeling good.
I am continually amazed at our body's innate knowledge and ability to heal itself.  With compassion and honesty, I support each client in learning to listen to their body. Communication with each other and understanding one's body are essential to rediscovering our natural balance. My intention is to create an open and comfortable space for healing and personal growth.
Massage has been used for centuries to help decrease pain, increase range of motion, and to maintain health.  Healing massage therapy can serve many purposes and the experience is unique for everyone. A session could offer much needed relaxation, be a way of helping your body overcome an injury or chronic health concern, a way of learning to listen to your body, or be a part of your health-maintenance program. Everyone's needs are different, and I am committed to providing a nurturing and safe environment where every client is able to experience the therapeutic benefits of massage.  
There are multiple modalities and techniques that fall under the heading of massage.  Everything from deep tissue massage to dynamic stretching.  Since every BODY is unique, each massage should be as well.  Because of my training, I pull from a variety of techniques and modalities so that I can create a customized massage that will address the issues or needs that are important for YOU.
INTEGRATIVE MASSAGE THERAPY
Integrative massage therapy is, by definition, a blending of multiple techniques.  Usually my massages are a combination of the following modalities:
Swedish or Relaxation Massage (not deep pressure)
This is the massage that people usually think of right away.  It is designed to relax the muscles and energize the body to improve health.  Rather than deep pressure, relaxation massage uses movements like long strokes, kneading, vibration, percussion, and tapping / rolling.  Massage oil or lotion is utilized, which helps reduce friction and protects the skin.

This type of massage is perfect for relaxing and relieving the stress of everyday life.  Through manipulation of muscles and joints – stress and pain is lessened, and circulation is improved.

Swedish massage has also been shown to be good for your heart, to reduce symptoms of depression and anxiety, and to improve the immune system!
 Involves lifting of muscle tissue, creating space for lymph / blood flow.  This is an ancient practice incorporating local suction on the skin with the application of heated cups.  Cupping therapy can help with pain, inflammation, blood flow, relaxation and well being.  The cups themselves can be made of silicone, earthenware, bamboo or glass.  This practice dates back to ancient Chinese, Middle Eastern and Egyptian cultures.  
Isometric / Isotonic 'exercise' Massage
Client is active, using about 10% of their strength – In Isometric massage therapy involves contracting a muscle without moving the body part and stretching.  This helps tight muscles learn to relax and for weak muscles to strengthen.  Isometric massage is especially beneficial to those recovery from surgery, having neck/shoulder issues, lower back pain, etc.
Positional Muscle Relaxation Massage
Positional Muscle relaxation is a gentle, non invasive type of bodywork.  It is very effective for those suffering from chronic stress and pain and problems associated with imbalances.  This modality is all about listening to your body and facilitating it's ability to self-correct.  The body is always trying to protect itself.  It is designed to function well – but sometimes gets into unhealthy habits.  These unhealthy habits or patterns take effort to change.  I will help your body re-learn how best to support itself.  Positional muscle relaxation reduces chronic tension and soothes the joints.  This results in increased flexibility, improved circulation and relaxation.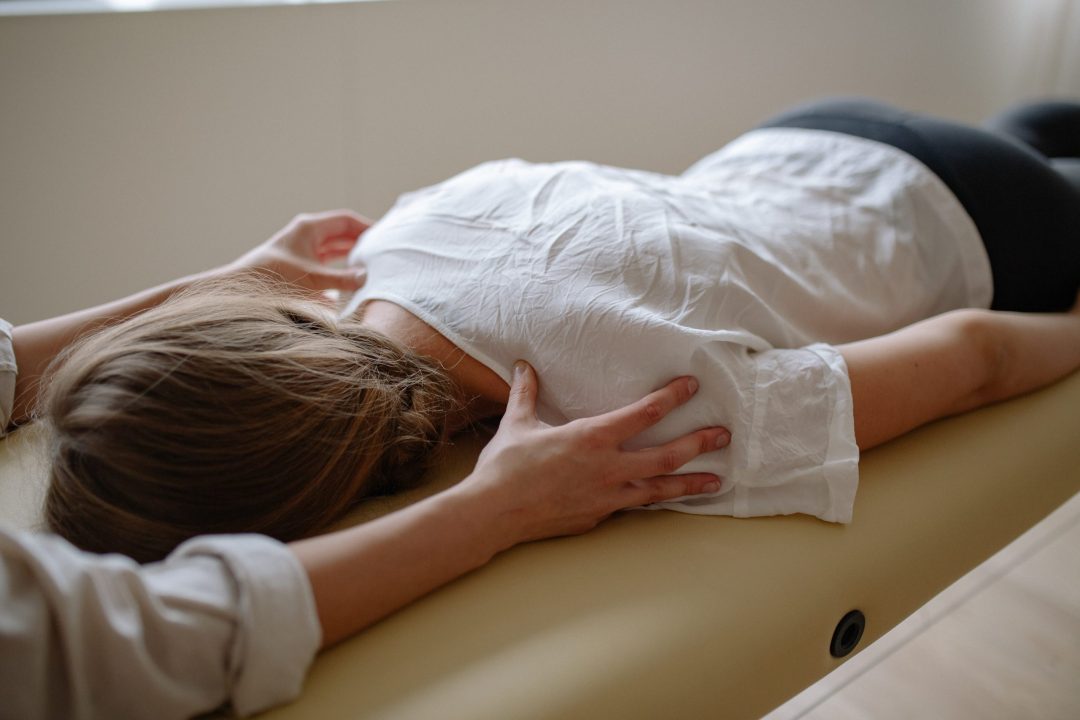 Deep Tissue – may be slightly uncomfortable, but not deep enough to make the body tense in reaction.  Deep tissue massage is not just a firmer swedish / relaxation massage.  True deep tissue massage uses very firm pressure and slow strokes designed to reach the deep layers of muscle and fascia.  Fascia is the connective tissue that surrounds muscle.  Deep tissue massage can be very effective in treating sports injuries and back pain.  By getting into the layers of muscle and fascia, the body's tension is released.  You can expect a sense of relaxation and an increase in blood and lymph circulation.
The integrative massage therapy technique is based on the premise that problems cannot be solved with a one-size-fits-all approach.  Each individual issue of the body can be targeted and addressed in a unique way, bringing the best outcome.  While massage therapy may be a treat, it is most definitely a treatment.  
In many cases, an integrative approach is one in which the client takes an active approach, versus a more passive role like would happen in a relaxation massage.  This is exactly why I cultivate a relationship with my clients, so that you feel safe and comfortable. We will discuss your goals and how we can get you to a place where you can reach them.  I am one member of your wellness team, and look forward to partnering with you on this journey!
Experts estimate that upwards of ninety percent of disease is stress related.  And perhaps nothing ages us faster – both internally and externally – than high stress.  Massage is an effective tool for managing this stress.
Massage therapy is an effective tool for managing stress, which translates to:
Decreased anxiety.
Enhanced sleep quality.
Greater energy.
Improved concentration.
Increased circulation.
Reduced fatigue.
Bodywork can help address a number of issues
Alleviate low-back pain and improve range of motion.
Assist with shorter, easier labor for expectant mothers and shorten maternity hospital stays.
Ease medication dependence.
Enhance immunity by stimulating lymph flow—the body's natural defense system.
Exercise and stretch weak, tight, or atrophied muscles.
Help athletes of any level prepare for, and recover from, strenuous workouts.
Improve the condition of the body's largest organ—the skin.
Increase joint flexibility.
Lessen depression and anxiety.
Promote tissue regeneration, reducing scar tissue and stretch marks.
Pump oxygen and nutrients into tissues and vital organs, improving circulation.
Reduce postsurgery adhesions and swelling.
Reduce spasms and cramping.
Relax and soften injured, tired, and overused muscles.
Release endorphins—amino acids that work as the body's natural painkiller.
Relieve migraine pain.
FREQUENTLY ASKED QUESTIONS